The home was built by timber framer Danny Schwartz, an Amish craftsman who has become renowned for his work at Top of the Rock Resort & Golf Club owned by Bass Pro's Johnny Morris.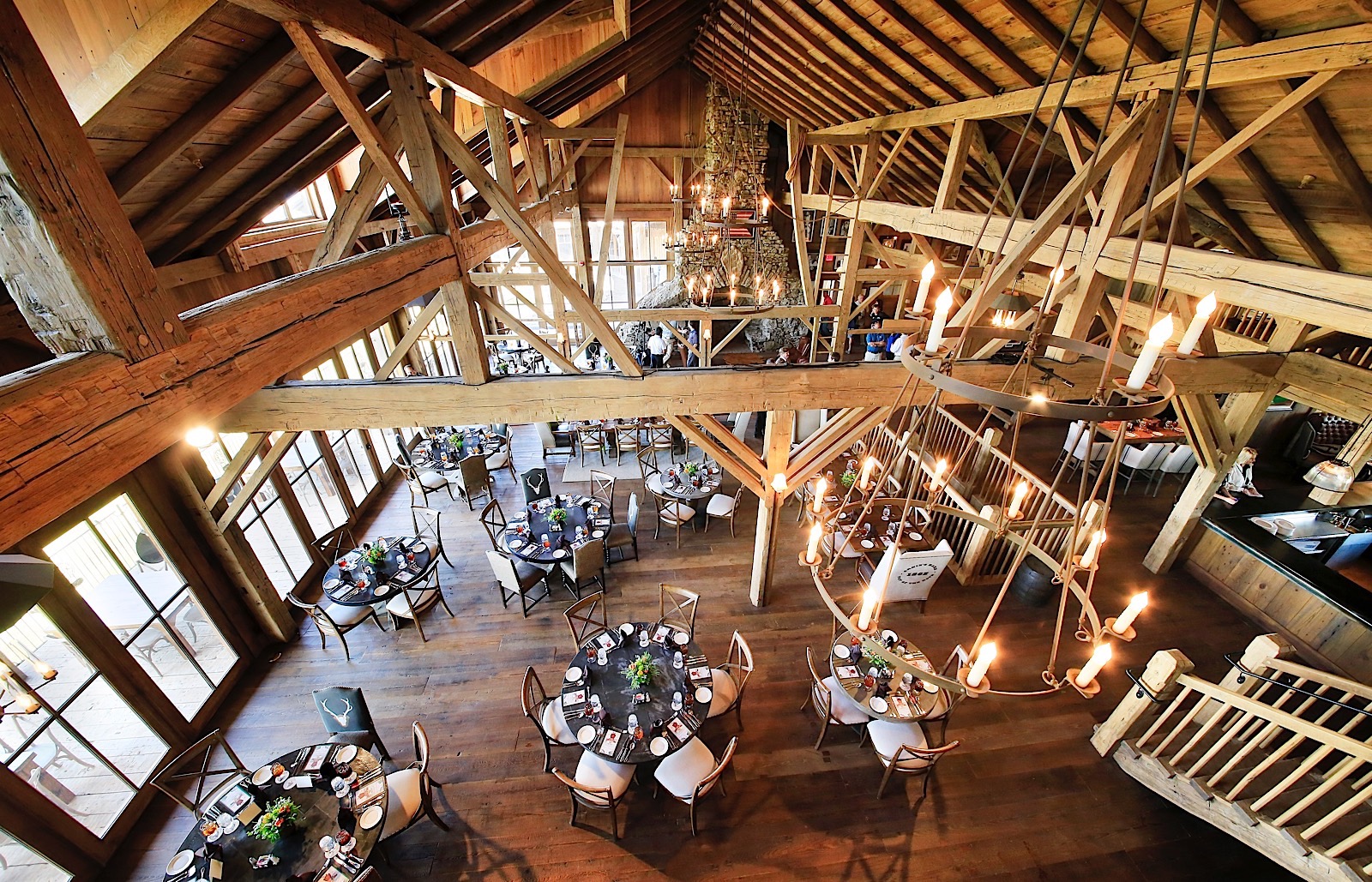 Photo courtesy of Big Cedar Lodge, Arnie's Barn
Local Ozark craftsman Danny Schwartz and his family members all joined in to carefully disassemble the barn and its 46-foot timbers, numbering each piece, transporting it and re-erecting the barn at Top of the Rock.
Danny's motto is "to build homes forever".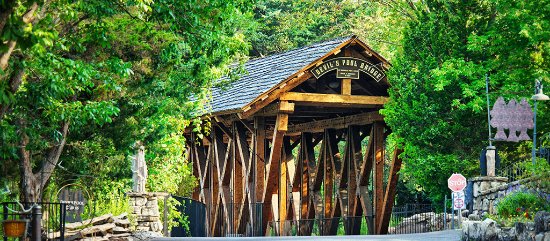 Photo courtesy of TripAdvisor
Above is the finished product of Danny Schwartz and his 10 person team. Devil's Pool covered bridge is a unique landmark in Ridgedale, MO whose beauty is captured by thousands of visitors every year.
Danny Schwartz is a renowned Amish craftsman who builds timber frame homes and structures throughout the United States. He has been building timber frame buildings for
three decades from his base of operations in the Missouri Ozarks. Of late, he has become very well known in the timber frame and building communities by taking the lead on all the timber work at Top of the Rock and Big Cedar Lodge. His work on these luxury properties has received numerous building and architectural recognitions. This property was completed in 2002 and included several members of the Schwartz family who are now also considered masters of the timber framing craft.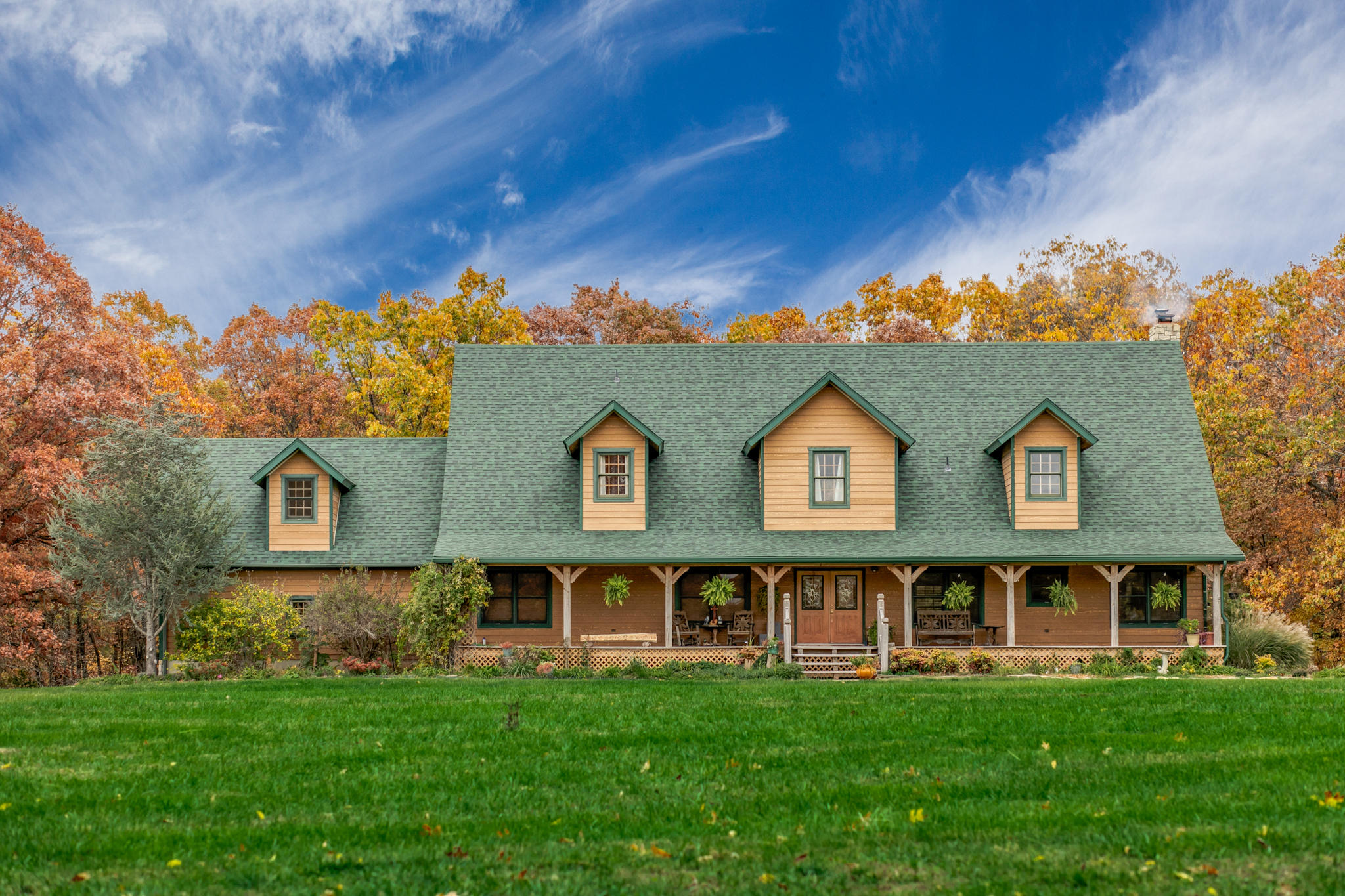 Timber frame construction is a unique and highly functional and artistic form of architectural building. Where most conventional builders may brag about using 6"x6" studs
in their walls, timber frame aficionados simply refer to such materials as "sticks". Timber framing was first used in the Middle-Ages by Vikings and became a popular form of building in Germany. The Amish imported the craft from Germany as they migrated to the US. Timber framing is known as sturdy, reliable and elegant. Many conventional buildings are incorporating timber "accents" in their designs that lack the actual benefit of timber function. Timber frame homes are built better and last longer.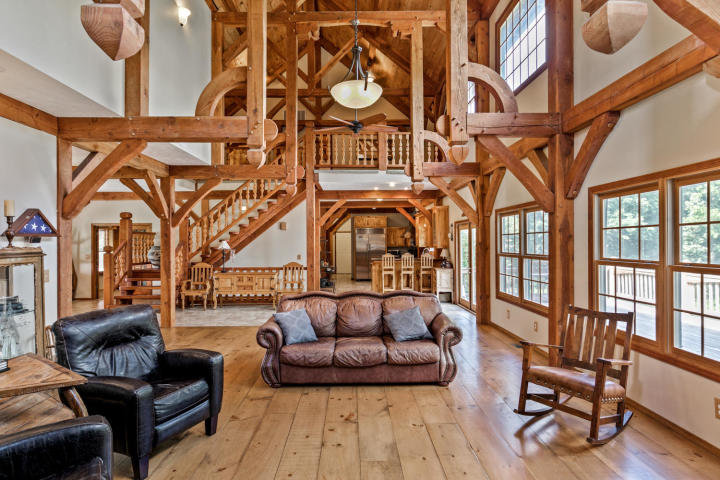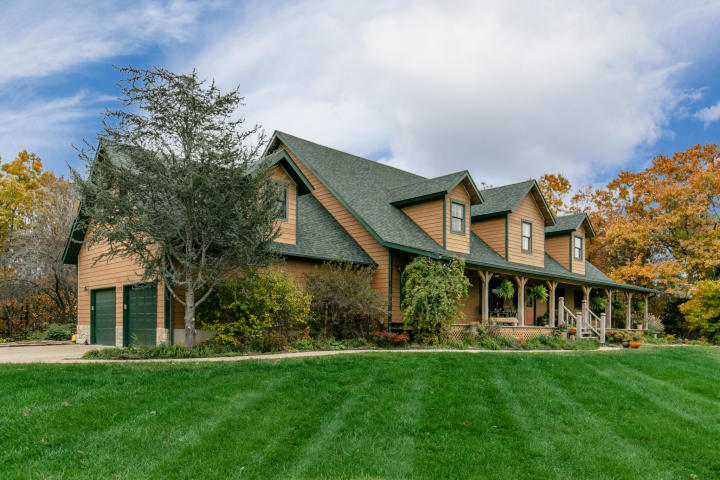 They often incorporate other unique building features like using panels in wall construction. This property utilizes these panels as well, which gives the home a minimum "R" value of R-40 in the walls and R-60 in the thicker and pine tongue and groove ceiling. This results in very low electric and gas bills for large square footage (about $250/mo on average).
This home is completely functional timber construction utilizing hand cut and hewn Douglas Fir trees brought from Oregon using traditional mortise and tenon techniques. The
beams are not accenting, they are the foundational structure of the house and were cut specifically for this house as well as completely maintenance-free.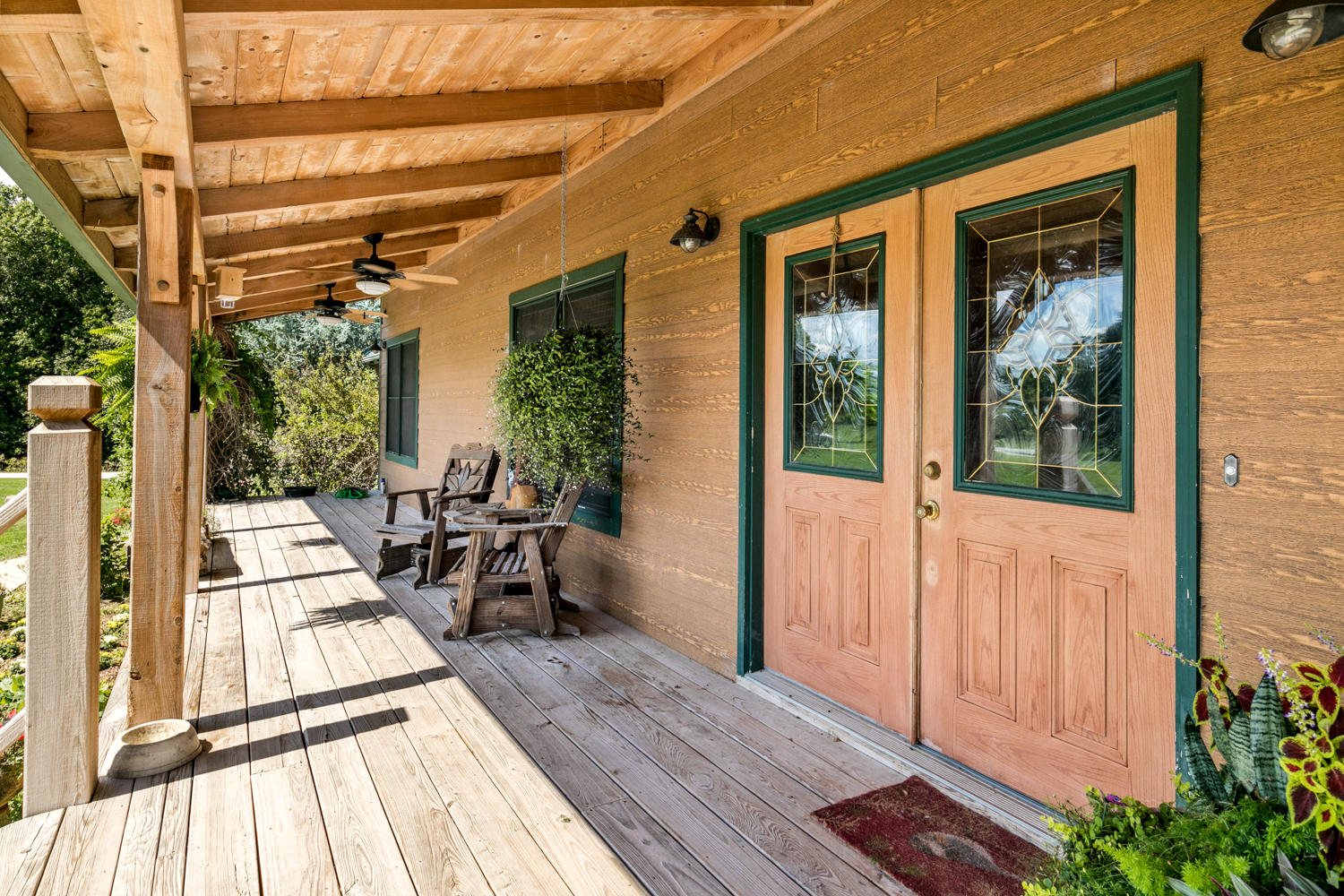 The front porch is Cypress from Louisiana and Missouri Cedar and Pine accents are throughout the home in the custom stair, ceiling and cabinet work. The house teems with artistry and craftsmanship which is unrivaled by most houses at this price point. The exterior of the home comes equipped with maintenance-free HardiePlank Cedar masonry siding which is built to stand up to all the outdoor elements. Unlike full log construction, or even log siding, this interior and exterior require no re-staining or treatment. The house is exactly as it was when completed in 2002 with minimal wear. Read more about HardiePlank here.
To build a timber frame home in today's market is at least $200/sqft. For Danny Schwartz to build a timber frame home in this area is more than $250/sqft. This home is listed for about $100/sqft plus 15.7 acres of land that has been an equine ranch and hay fields for over 150 years!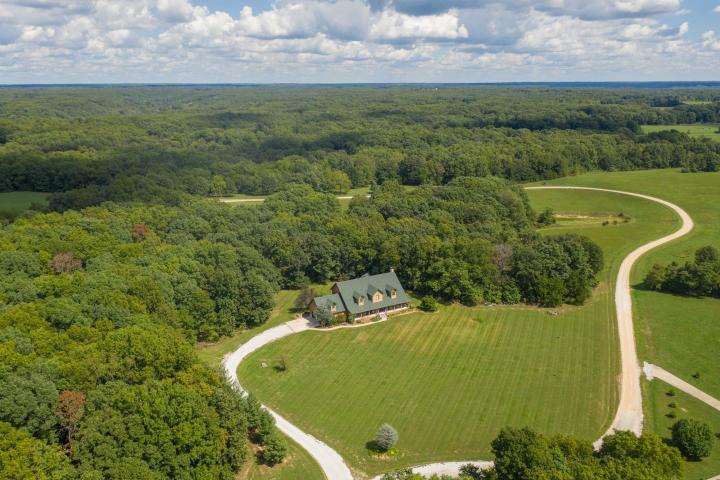 When combined with the 6 acres of oak forest full of deer, turkey, hawks, eagles, woodchucks and squirrels, the setting of this property truly is a slice of Ozarks heaven.
A timber frame home rarely comes on the market as most people build them to live in permanently. There are fewer than a dozen timber frame homes in the Greene, Christian Webster and Taney County areas. The last one to sell in 2016 sold for nearly $185/sqft. These rare timber frame homes truly hold their value.
If you would like to schedule a showing to see this beautiful piece of property, please call Listing Agent Adam Graddy's office at 417.501.5091. Call or Text.
Thank you for reading. We hope you truly enjoyed learning about timber frame homes and the beauty and comfort they offer.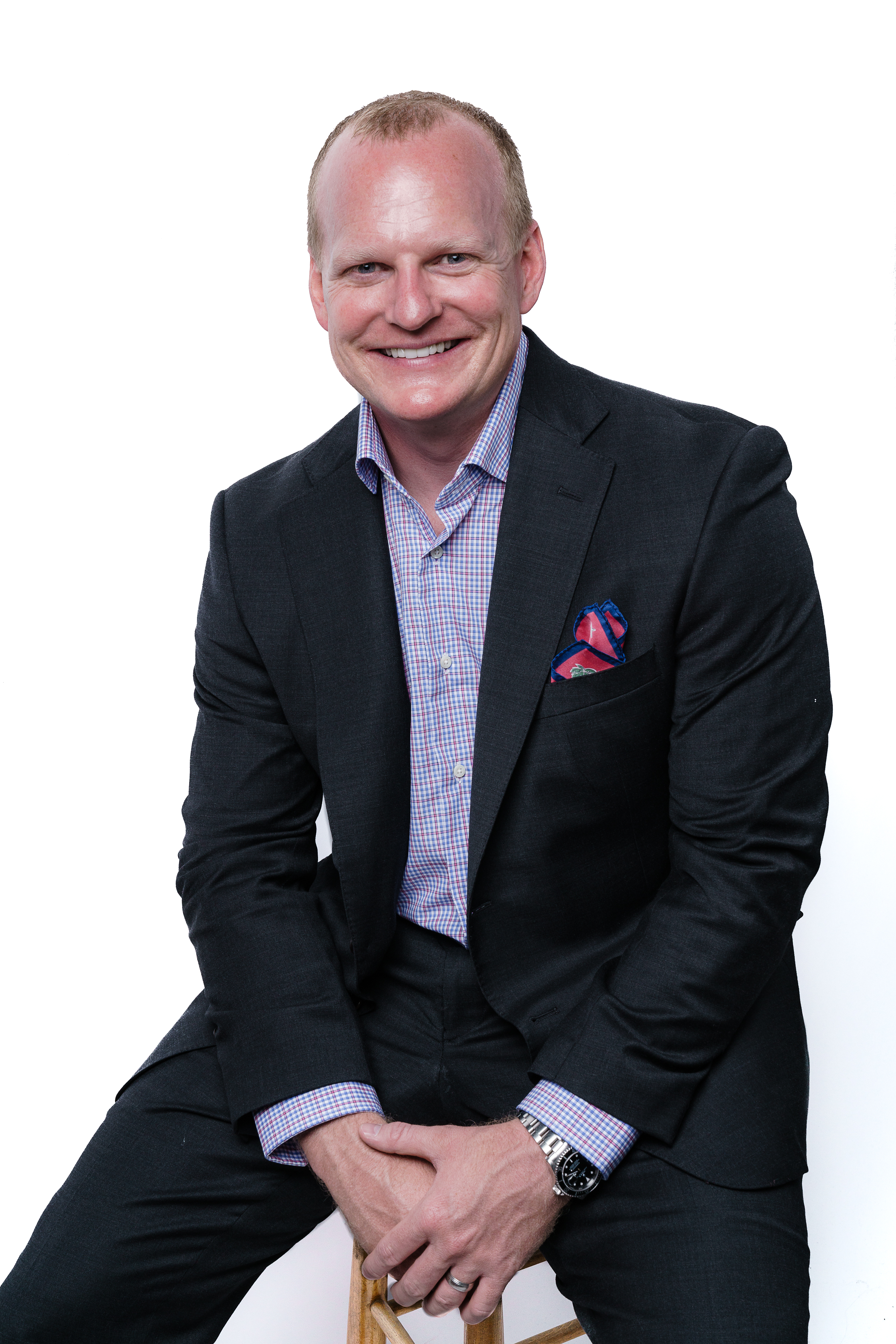 Adam Graddy
417.501.5091
Keller Williams
215 Ranch Drive, Rogersville, MO 65742
MLS #: 60119744