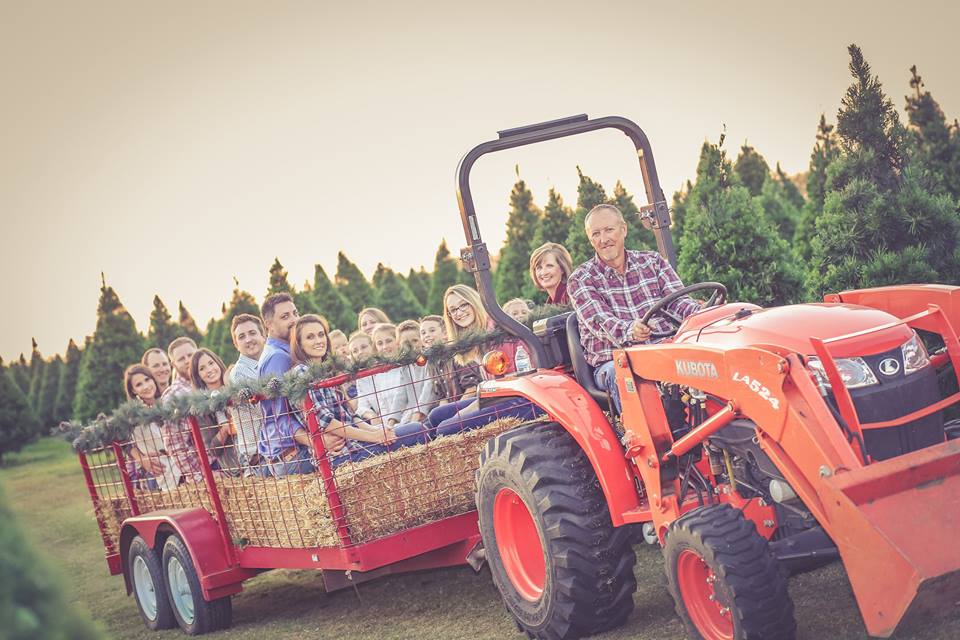 Photo courtesy of Wonderland Tree Farm

Looking to make some new holiday memories or traditions? We've got just the thing for you! Choose the perfect tree, create a front door masterpiece, sip hot cocoa from the back of a hay-filled tractor pull… this list has everything you need to enjoy the festive season!
Cut Your Own Trees
14821 Miser Road, Pea Ridge, AR, 72751 • 479-212-2964 • wonderlandtreefarm.xyz
Types of Trees to Cut: Virginia and Scotch pines and Leyland cyprus
Precut Trees: Frasier fir (plus balled-and-burlapped green giants and Norway and blue Fat Albert spruces)
More: Hayrides, Christmas music, popcorn, sweet treats, cocoa and a shop with holiday decorations, wreaths, greenery and more!
23100 Highway OO, Lebanon, MO 65536 • 417-588-3008 • Cole's Tree Farm on Facebook
Types of Trees to Cut: Scotch, Virginia and white pines
Precut Trees: Norway spruce
More: Fresh wreaths for sale
9581 County Lane 251, Webb City, MO 64870 • 417-529-8508 • bridgestonefarm.com
Types of Trees to Cut: Scotch and Austrian pines
Precut Trees: Frasier, Douglas and balsam firs and white pine
More: Hayrides, gift shop with holiday decorations, hot cocoa and apple cider
1090 Manning Road, Southwest City, MO 64863 • 417-762-2276 • ozarkvalleychristmas.com
Types of Trees to Cut: Scotch pine
Precut Trees: White pine and Frasier fir
More: Gift shop with Christmas decor, hayrides, cow train rides, kids crafts, hot chocolate, sweets, snacks and fresh wreaths
Wreath Making Classes & Freshly Made Wreaths
Photo courtesy of Ozark Mtn Flower Truck
Culture Flock – 3939 S. Lone Pine Ave, Suite 102, Springfield, MO 65804
Date & Time: December 8, 2018 from 1-4PM
Cost: $85 BUY TICKETS HERE
Details: From the site – "Let's make some wreaths! And drink hot cocoa, and jam out to some holiday tunes in the brand new Culture Flock studio! There are limited spots available. Come hang with us and learn how to make your own wreath! You'll go home with the 18″ fresh winter green wreath you made."
Harrison House Market – 1717 E Cherokee St #103, Springfield, MO 65802
Date & Time: December 2, 2018 from 2-4PM
Cost: $50 BUY TICKETS HERE
Details: From the site – "Learn to assemble your very own evergreen wreath, choose wreath embellishments from a selection provided by Harrison House Market, and enjoy a festive afternoon with fellow holiday fans!"
Black Sheep Burgers – 2160 West Chesterfield Street, Springfield, MO 65807
Date & Time: December 1, 2018 from 11AM-1PM or 3-5PM
Cost: $65 BUY TICKETS HERE Code: InstaGiveaway for 15% off!
Details: From the site – "The wreath will consist of magnolia leaves & noble fir. Guests will also get to enjoy a FREE holiday edition milkshake from Black Sheep Burgers & Shakes! Once finished with the wreath, you are welcome to take it home and hang it up just in time for the holidays!"
Keep your tree and wreath looking fresh!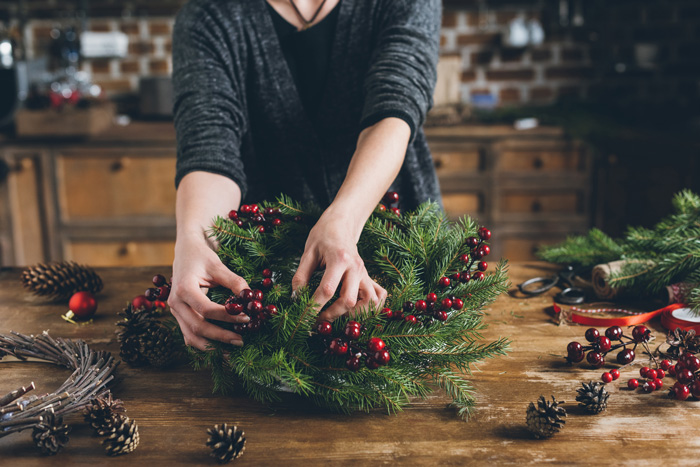 You spent hours finding that perfect Pinterest idea to bring to life for the holidays! Keeping your tree and the wreath you spent so much time decorating fresh through the season is important! Information provided from Ozark Valley Tree Farm.
A few things to remember:

1. Before it comes in the house: If you aren't going to immediately set up your tree, store it in the shade to prevent it from drying out. Also, make a fresh cut on the bottom and stand it in a bucket of water.

2. Setting up your tree in the stand: Before putting your tree in the stand, cut .5 to 1 inch from the bottom of the trunk to allow the tree to take in water. Sap will harden on the bottom of the trunk preventing your tree from "drinking".

3. Decorating your tree: Immediately place your tree in a water filled stand. Place your tree in a location that is away from heat. Placing your tree in front of a fireplace, heater, or in the direct sun will cause it to dry out more quickly. Keep the tree well watered all season.

Keeping your wreath green through the season is important too!
4. Wreath care: In order to prevent your wreath from drying out, hang it in a shady location out of the direct sunlight. Also, do not hang your wreath between your house door and a glass storm door. That will cause your wreath to get too hot and turn brown.

**It is important to never burn your Christmas tree in the fireplace or wood stove. Pines, firs and other evergreens have a high content of flammable turpentine oils. Burning the tree may contribute to creosote buildup and risk a chimney fire.**
Enjoy this holiday season and please be careful when disposing of your trees and wreaths! Happy Holidays!
DISCLAIMER: The information in this article was fact checked and accurate at the time posted, but Graddy Team cannot guarantee its accuracy indefinitely. We are not affiliated with or being reimbursed by these establishments.