We love our community and the vast opportunities that are offered here! Most of our team members were born and raised here in the Ozarks. We are so thankful for a job that allows us to be passionate about helping families move to a place we love calling home.
Springfield is a regional hub with large city amenities and small town hospitality which keeps our team driven to provide financial stability to non-for-profits around the area. We have a big philanthropic heart when it comes to supporting local charities and organizations.
Throughout the years we have dedicated our hearts to these hard working organizations. If you would like to make any donations, we have links to their websites below.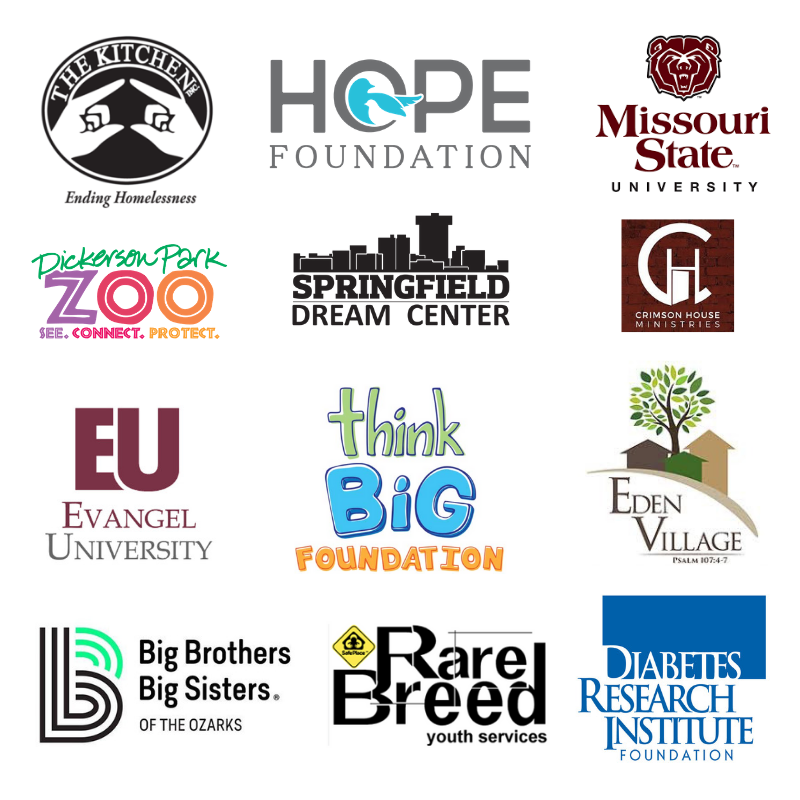 MISSION: "We bring stability and purpose to people who are homeless."
MISSION: "To assist financially in times of crisis, when other organizations and insurance companies don't."
Missouri State University Bears
MISSION: "To develop an environment which promotes giving and therein seek, receive, manage and distribute resources in a manner appropriate to support programs of instruction, research and public service of the University.
MISSION: "To provide practical resources to the families in the area, as well as hope for a better tomorrow.
Crimson House – C-Street Connect
"Crimson House is a church and community ministry center. C-Street Connect at Crimson House is a community food pantry serving USDA food and non-USDA food to income qualified residents of Greene County."
Dickerson Park Zoo – Friends of The Zoo
MISSION: "Dickerson Park Zoo connects people with animals to create adventures that encourage discovery and inspire conservation action."
MISSION: "Evangel University is a comprehensive Christian university committed to excellence in educating and equipping students to become Spirit-empowered servants of God who impact the Church and society globally."
MISSION: "Helping children facing adversity connect with a mentor who inspires them to achieve success in life."
The Gathering Tree – Eden Village
"Eden Village will provide dignified housing and a loving community of hospitality to Springfield's chronically disabled homeless population in an effort to meet individual's most fundamental needs. By meeting these needs, he or she in turn may focus on addressing the reason(s) that he or she became homeless."

Big Brothers Big Sisters of The Ozarks
"The Big Brothers Big Sisters Donation Station project under the Think Big Foundation is a new form of sustainable revenue for Big Brothers Big Sisters of the Ozarks. In short, your donations create sustainable revenue for our agency and fuel our mentoring programs."

MISSION: "Promotes healthy relationships, resiliency, empowerment, and healing for Springfield's young people."
Diabetes Research Institute Foundation
MISSION: "Provide the Diabetes Research Institute with the funding necessary to cure diabetes now.