Getting ready to paint your home's exterior? Find our favorite exterior color schemes and tips for picking house paint colors. This appealing array of homes combine paint colors in charmingly impactful ways. Article by BHG.
1. Pearl Gray, Slate Blue, White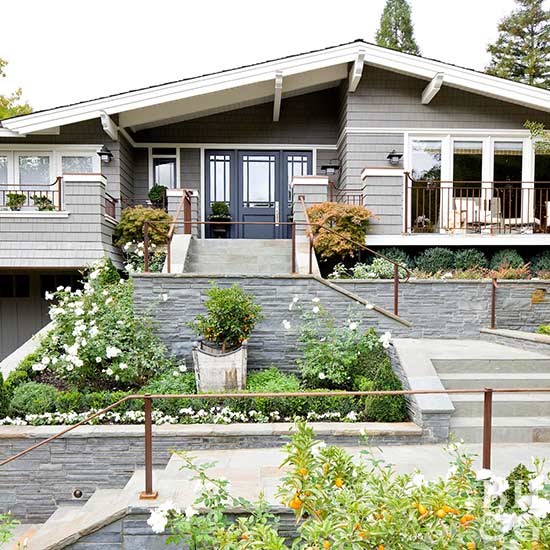 Taking its cue from nearby stone and concrete hardscapes, this home steps quietly into view. Its peaceable palette highlights the home's best features, establishes a sense of symmetry, and fashions a fresh take on mid-century modern style. By placing the slate blue house paint at the front entry and using bright white extensively, the homeowners created a home with a pleasingly streamlined silhouette.
2. Red, White, Blue, Beige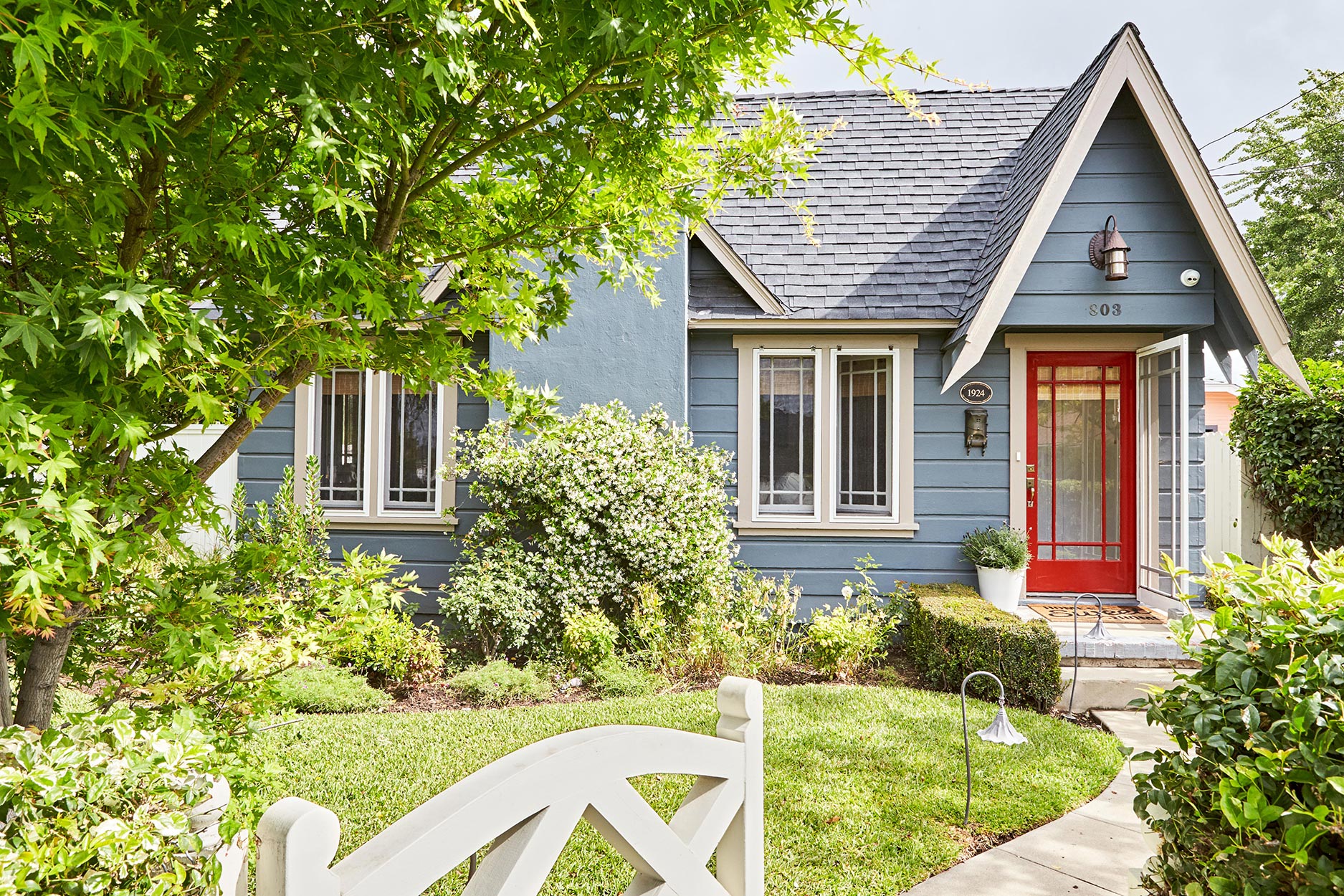 A bright red front door is a warm welcome into this Tudor cottage. White window trim gives dimension to the home's beige trim, which is repeated on the fence as well. Light blue, as opposed to a navy blue, keeps the home from looking too much like Fourth of July decor.
3. Lavender, White, Purple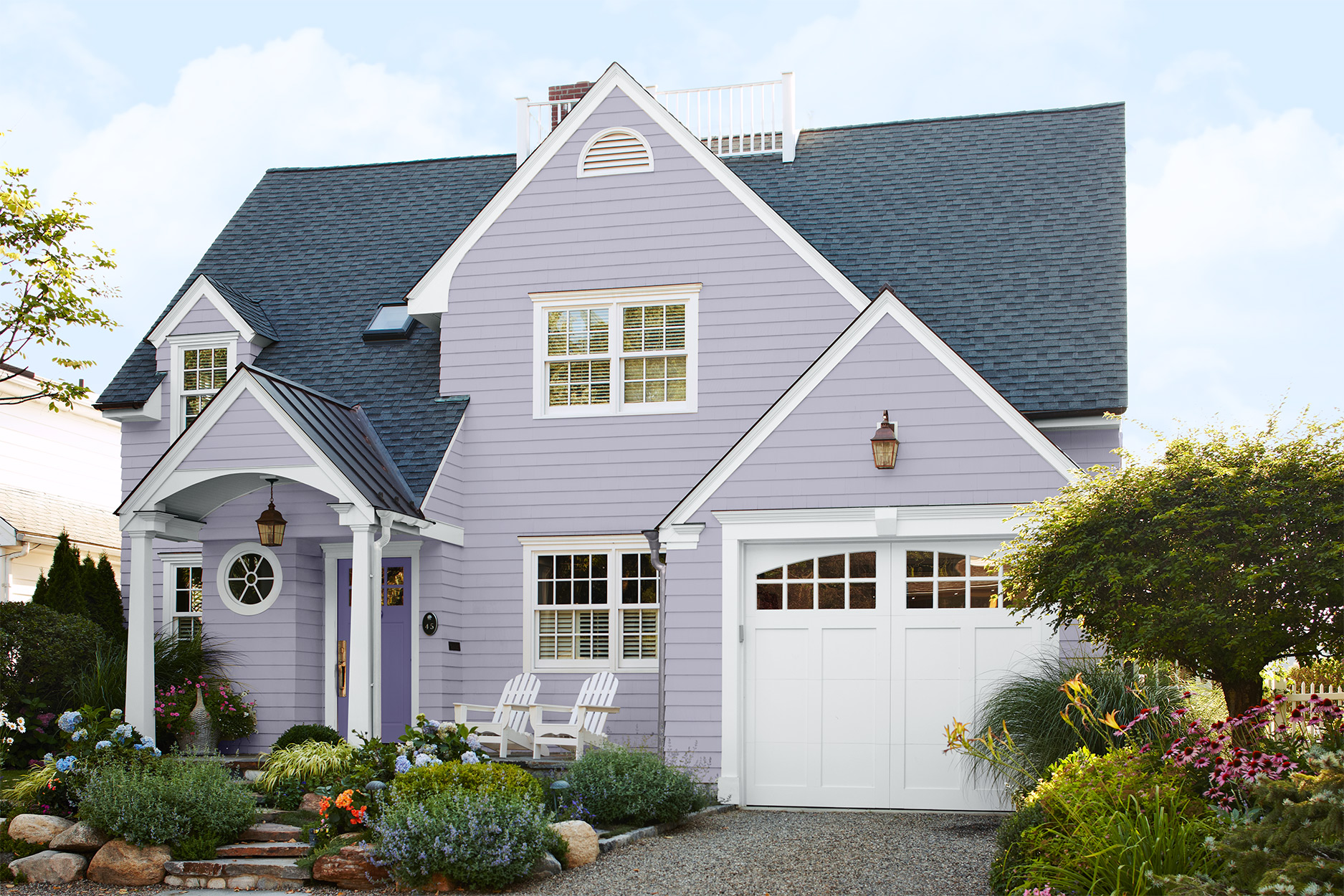 Lavender is an unexpected addition to the neighborhood—especially when paired with an equally colorful door. Choose a pastel paint color with cool gray undertones. The neutralized color palette will modernize your home's exterior.
4. Navy, White, Turquoise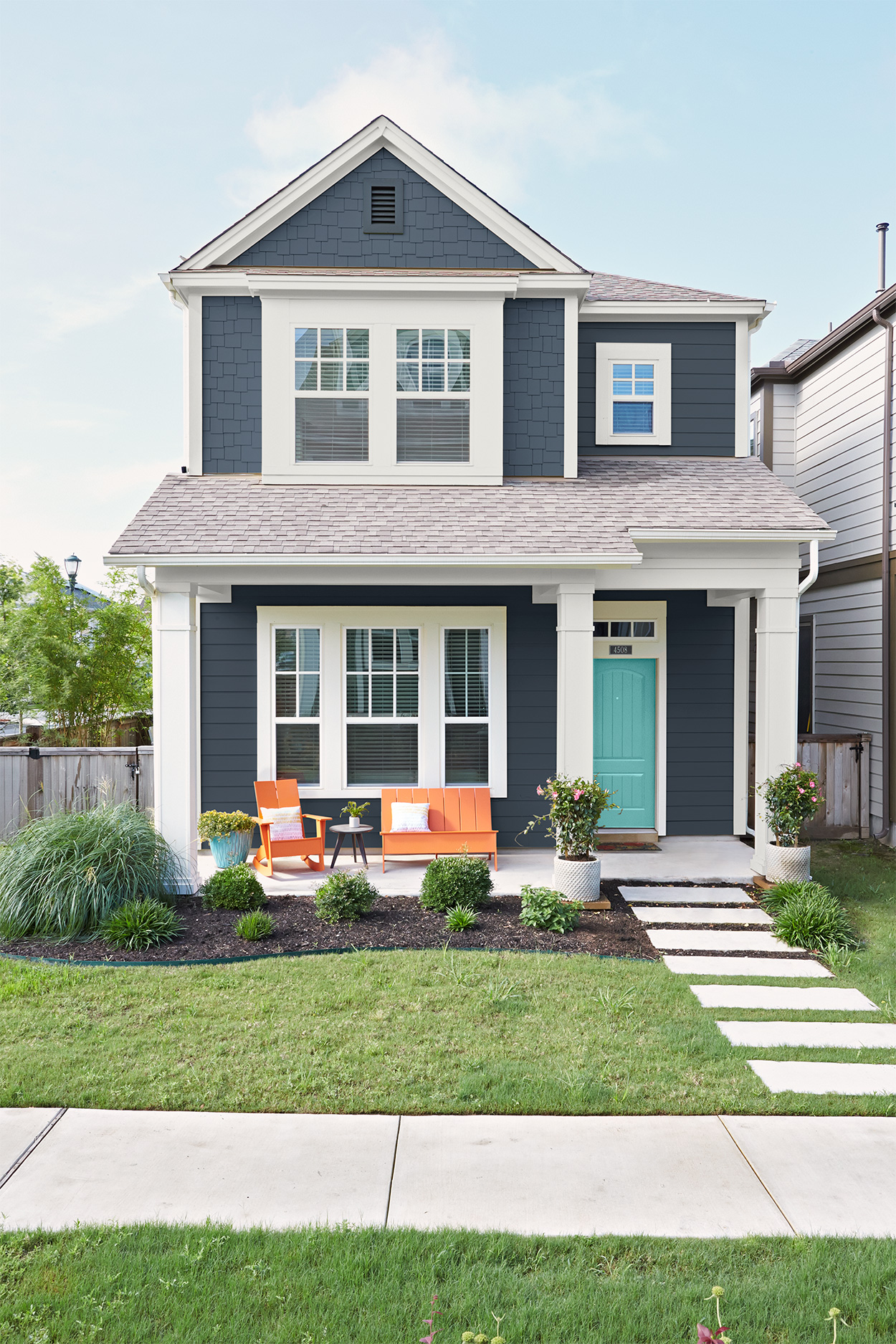 This home has two different siding types, but a single color unifies them so it's barely noticeable. A dark navy hides the textural differences while white trim pops against the classic shade of blue. A fun turquoise front door is a welcoming touch.
5. Forest Green, White, Lime
The brick facade on this home was the starting point of inspiration for its color palette. The forest green color on the siding was drawn from the brick itself, and the white trim was chosen to brighten the exterior. A bright lime-green door puts a modern twist on the traditional home.
6. Cocoa, Olive, Off White, Russet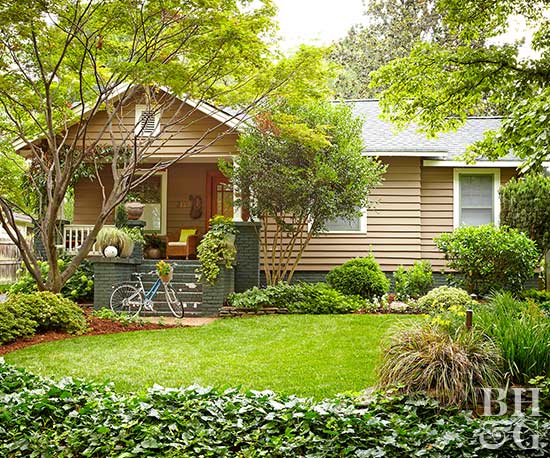 Dark olive-color brick steps and foundation firmly anchor the cocoa brown siding to nearby perennial borders. Olive green lightens to moss green window sashes, which are highlighted by off-white trim. The russet-hue door sports orange undertones that allow it to stand out from the brown siding. This home proves that choosing light and dark shades of one or two nature-inspired neutrals as exterior paint colors is the key to fashioning an entrance that steps lightly on the landscape.
7. Seafoam Green & White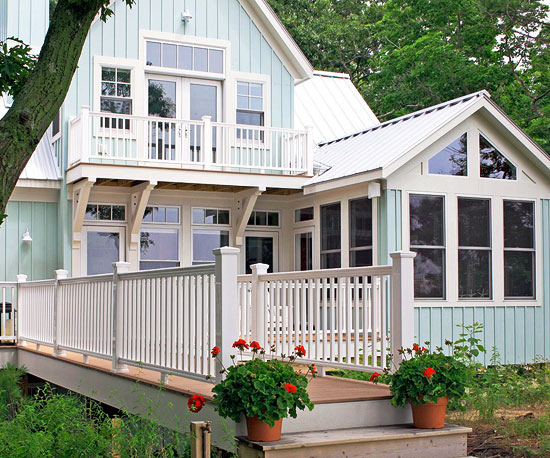 Seafoam green is expected on a beach house surrounded by sand. But this stunning blue-green home is tucked away in the trees. Its standout exterior color combination is a refreshing contrast to the forest foliage. White is a no-fail complementary color to any pastel hue, and, when used on trim, delicately frames the house in its lush environment.
8. Iron Gray & Arctic White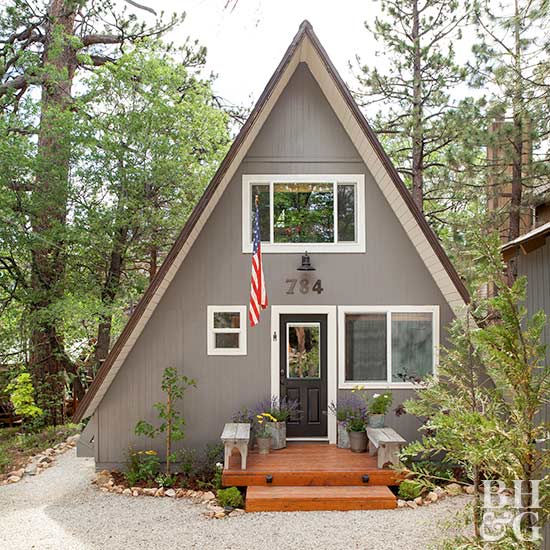 Planning an exterior remodel? Consider siding for a colorful makeover with staying power. With advances in technology, many of today's siding options are chip- and fade-resistant. That can mean less upkeep for you and vibrant color for years to come!
9. Light Gray, Copper, Beige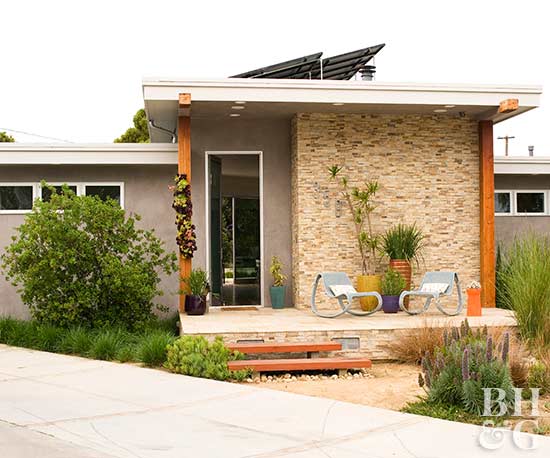 These neutral exterior paint colors pack a surprising punch at first glance. Passersby are first drawn to the stone accent wall that features varying shades of tan and brown. Its textured look continues onto the porch floor and surround. Meanwhile, two wood beams stained in a copper shade mark the boundaries of the entryway. Cool gray paint on the remaining exterior walls provides a neutral backdrop that lets the other colors do the talking.
10. Dark Steel Blue, Muted Green, White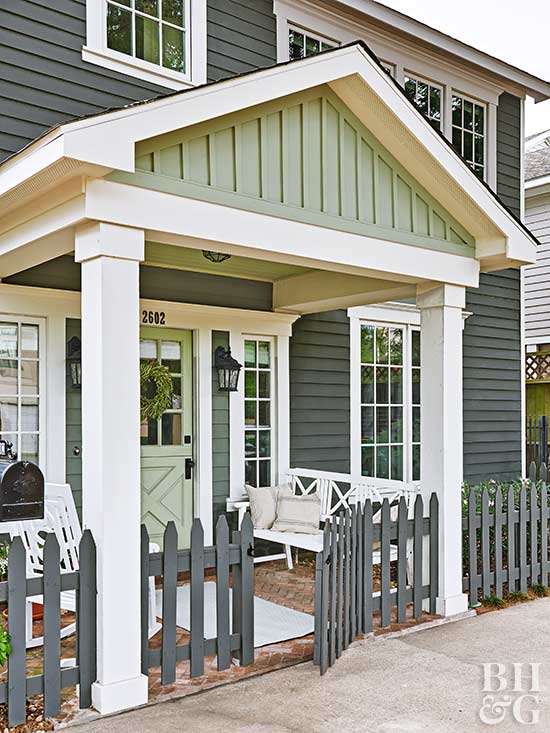 Without the muted green gable and door, this home would look dark and uninviting. A small splash of color goes a long way, especially when framed in white trim. The chalky matte finish on the blue and green exterior paint colors is a great way to make non-neutrals pair well together. The choice to paint the picket fence steel blue, instead of traditional white, keeps the attention on the home's green door.
11. Red Brick, Navy Blue, White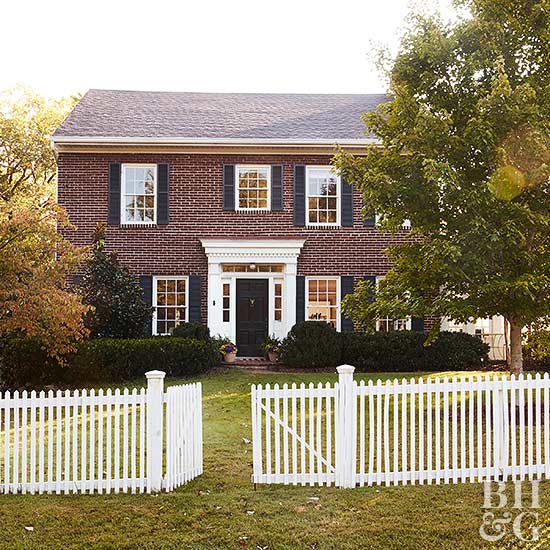 If you think red and blue should remain only in July, here's a more subtle look you can love all year. Traditional in all facets, this home's rich red brick exterior will stop you in your tracks. Shutters painted deep navy blue match the front door and frame the windows without stealing the show. Bright white trim makes a grand appearance around the entry and on the picture-perfect picket fence. This all-American house exterior will never go out of style.
12. Sage Green, Cream, Yellow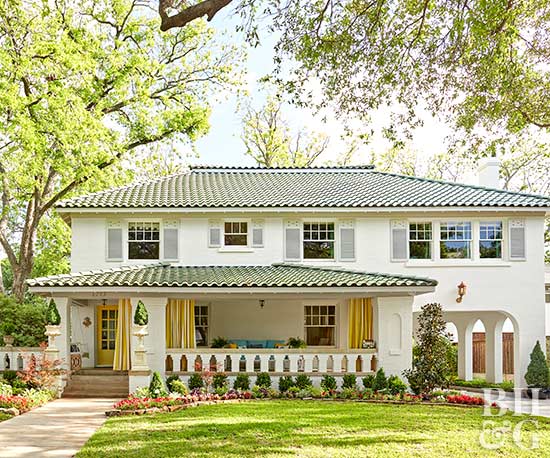 Incorporate sage green into your home's exterior for a pretty muted color scheme. Green roofing is this home's statement feature and pairs well with the surrounding tree canopy. A soft yellow door and matching curtains on the front porch add a pinch of bright color to the mix. A coat of cream paint on the walls ties the look together.
13. Apricot, White, Smoky Gray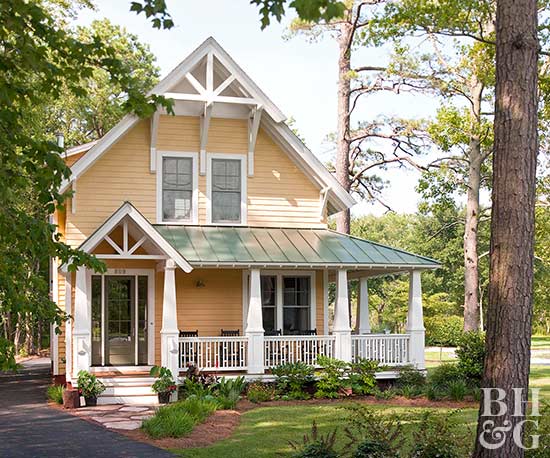 A classic farmhouse takes a contemporary turn thanks to a refreshingly cheerful color palette. A soft apricot exterior paint sets the siding aglow, glossy white paint highlights the home's vintage details, and smoky gray paint adds visual weight to the front door and window sashes. Appreciate this home's welcoming outlook? Coat your home's siding with warm paint colors boasting yellow or red undertones.
14. Stormy Gray, Paprika Red, Bright White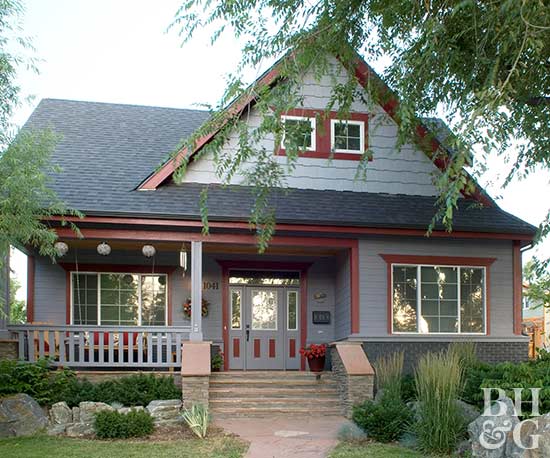 Cool gray siding fashions an easy-on-the-eye exterior that benefits from warming touches of paprika red. The spicy red highlights the roof peak, outlines windows, accents the front door, and defines the porch trim. White pops up as window sashes to bring dimension and brightness to the facade. Use rich exterior house colors with a touch of sheen to give your home been-around-awhile character.
15. White, Black, Gray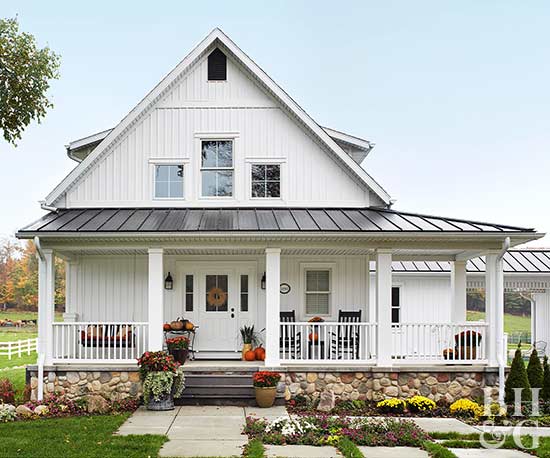 You don't need multiple exterior house paint colors to have your home stand out. White trim, white siding, and white railings give this farmhouse spick-and-span appeal. A black-painted gable vent and charcoal gray steps take their color cue from the home's metal roof. The dark paint finishes and white surfaces enhance the home's historic country profile and complement its river rock foundation.